EuroSpaceHub Forum will take place in Ibiza, Spain, from 3rd to 5th May! Join us for three days in this special location to experience Space in a unique way at our first EuroSpaceHub Forum.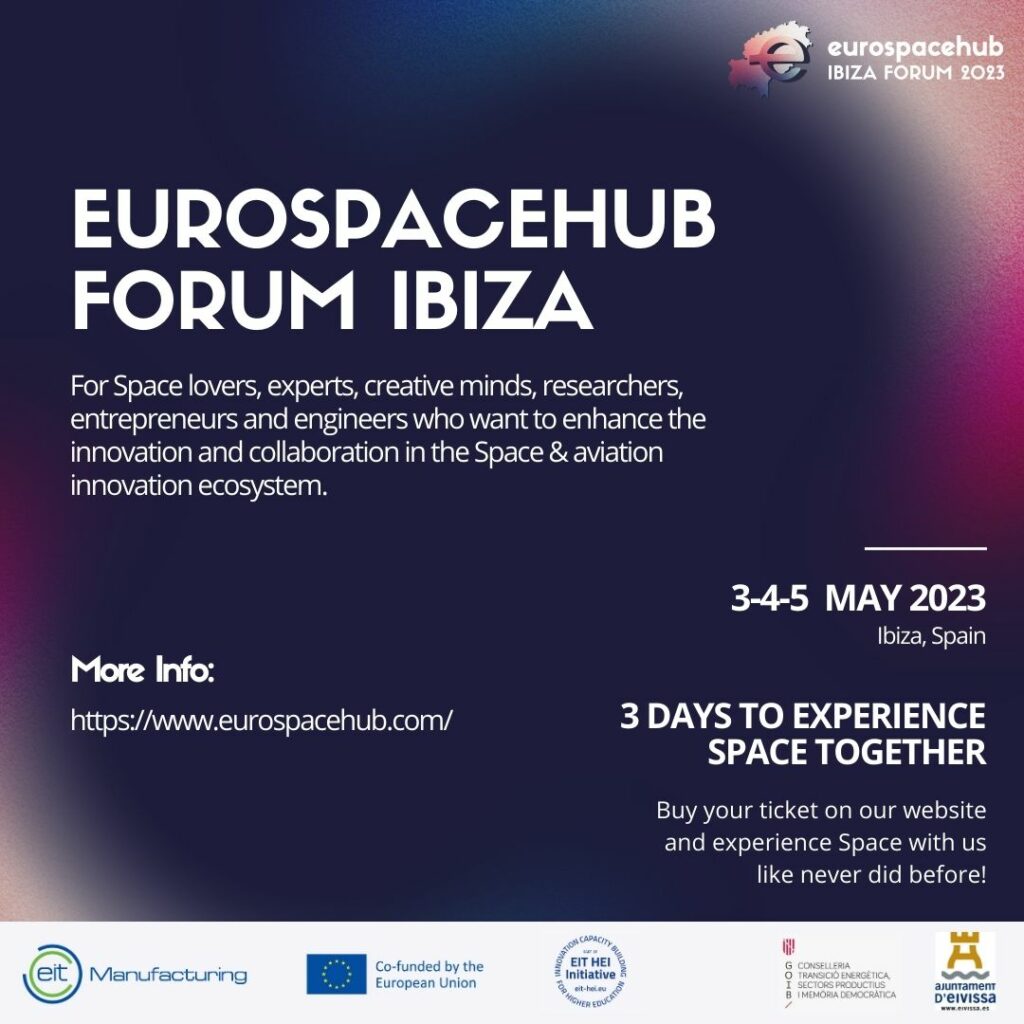 Why a EuroSpaceHub Forum?
We are incredibly happy to announce our first EuroSpaceHub Forum, which will take place on the beautiful island of Ibiza on the dates of 3-4-5 May 2023. The festival is a EuroSpaceHub initiative, carried out in collaboration with the local government of Ibiza and the Balearic Islands, with support from the European Union's EIT HEI initiative.
The Forum was created to bring together the EuroSpaceHub community and, more broadly, all Space Lovers, professionals and students, to celebrate Space in an innovative way and to learn together. The objective of this Forum is to create informal and formal conversations between actors and stakeholders in the Space and Aviation innovation ecosystem. We want to increase mutual learning, inspire conversations to trigger unexpected collaborations. We hope this three-day event will be a time of fruitful networking, from which new partnerships between academia, industry, startups and governments will emerge.
What to expect from the EuroSpaceHub Forum Ibiza 2023?
EuroSpaceHub Ibiza Forum 2023 is a place to connect with Space enthusiasts, creatives, innovators, researchers, entrepreneurs, engineers and technicians. The program includes different types of contributions and activities, from informal conversations to interactive debates, masterclasses, workshops and creation and collaboration sessions.
Registration details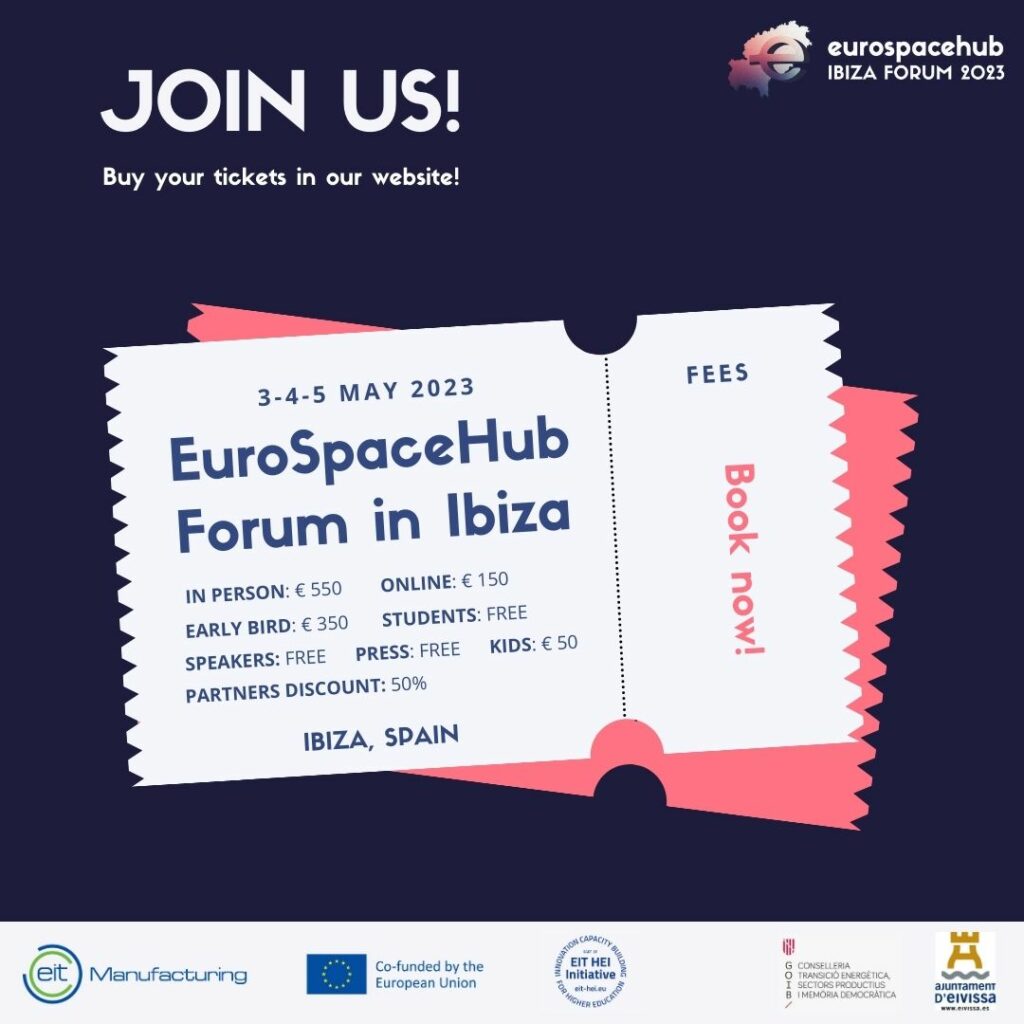 The event will be held in hybrid mode. It will be possible to attend in person in Ibiza or connect online. Tickets can be purchased in the Shop section of this website, according to the following fees:
In person: 550 EUR
Online: 150 EUR
Early bird: 350 EUR
Student free
Partner discount: 50%
Speakers and panelists: free
Kids: 50 EUR
Press: free.
Travel and accommodation costs are not included.
We believe in Co-Responsibility
For the three-day event, there will also be a special service for families. Children can have fun and learn with workshops dedicated to them, while parents can enjoy the event thanks to the babysitting service we have organized. The service is for children between 6 and 15 years old and will take place at Fablab Ibiza.
The Agenda
What's on the agenda for you at the Forum? A wide range of lectures, panels, classes and creative activities, of course! If you are curious about the detailed program, take a look below. Our program includes a wide variety of contributions. Panels will bring together diverse representatives from startups to academics, from industry to government. In addition, there will be interactive moments of exchange, including networking game sessions to find collaborations among participants. There will be no shortage of co-creation moments and active workshops, where every participant will be the protagonist. As a background to all this, the magnificent locations of Ibiza will be the perfect venues for networking lunches, breaks and evening events.

At EuroSpaceHub we think that Space is the perfect juncture between technology and philosophy, between science and culture, between rationality and creativity. Our festival stands up for these values and will provide opportunities for Space artists, musicians and writers to share with the public the inspiration that Space has given to their art. With this Forum you can experience Space firsthand as you never have before. Shall we talk about Space Food? Be prepared, it won't be missed at the festival!
Call for cases into panel discussions
We invite you to submit your contribution to one of the following initiatives we are planning during the festival. If you have an interesting project you would like to present, please send your abstract and required material before the deadline. There are three areas in which you are invited to participate:

1. SPACE AND AVIATION NON-HACKATHON

Present your company's solution: this is not a call for ideas, but for solutions that your company already has! There are two themes for this call:

Theme 1: Save and protect the algae with a satellite system to inform the government in real time from boats, ships and tourists.

Theme 2: Save and protect biodiversity (fauna and flora) with a satellite system to inform the government in real time from boats, ships and tourists.

Deadline: 15 April 2023
Required materials: Abstract, 2000 words + 10 pages commercial proposal for the Goverment of Ibiza and Baleares.

2. SPACE AND AVIATION INNOVATION COLLABORATION SUCCESS STORY
Submit your collaboration related to one of the following categories:

Category 1: startup-industry
Category 2: academia-industry
Category 3: startup-academia
Deadline: 15 April 2023
Required materials: Abstract, 2000 words + collaboration description using the Collaboration Canvas (downloadable from our EuroSpaceHub Digital Platform)
3. SPACE AND AVIATION INNOVATION ECOSYSTEM SUCCESS ACTIVITY:
Category 1: SBIC
Category 2: industry accelerator
Category 3: university spin-off
Category 4: government program
Deadline: 15 April 2023
Required materials: Abstract, 2000 words + ecosystem activity description using the innovation ecosystem canvas (downloadable from our EuroSpaceHub Digital Platform)

We look forward to meeting you in May in Ibiza, to celebrate Space together and share our knowledge.
Keywords: space, research, event, forum, Ibiza, festival, astronauts, experience
So… Are you ready?
Book now and buy your ticket in our shop, taking advantage of the Early-Bird discount!
EUROSPACEHUB IS FOUNDED BY VILNIUSTECH, INTERNATIONAL SPACE UNIVERSITY, COMPLUTENSE UNIVERSITY OF MADRID, COLLABWITH, LUNEX FOUNDATIONS AND FUNDED BY THE EIT HEI INITIATIVE LEAD BY EIT MANUFACTURING & EIT RAW MATERIALS.

FUNDED BY THE EUROPEAN UNION. VIEWS AND OPINIONS EXPRESSED ARE HOWEVER THOSE OF THE AUTHOR(S) ONLY AND DO NOT NECESSARILY REFLECT THOSE OF THE EUROPEAN UNION OR EIT. NEITHER THE EUROPEAN UNION NOR THE GRANTING AUTHORITY CAN BE HELD RESPONSIBLE FOR THEM.