NOW IT'S OFFICIAL!  We are very happy to share with you the three winners of the EuroSpaceHub Vintage Space Art Contest!
We are truly amazed by the artworks we received and congratulate all the international participants for their creativity. Special congratulations to the three winners: Pietro Pizzi, with his work "Lunar Car," Gioia Arieti, with her work "Space Gazing," and Francesca Mirabile, with "F.M. Robot." Pietro, Gioia and Francesca placed on the podium and will receive €400, €200 and €100 respectively for their winning entries. 
But there's more! Our jury – composed of 14 members of the EuroSpaceHub consortium representing the various partners – also selected 9 other works that will be shown on the Log In page of the EuroSpaceHub platform. T-shirts with the contest graphics are already available in the shop section of our website. Take a look here!
By purchasing a T-shirt you will support three good causes: the creative work of an artist, the training of young students in aerospace, and the work of EuroSpaceHub. In addition to cash prizes for the three winning designs, each artist will receive 100€ for each t-shirt sold with their graphics. Each T-shirt is sold at a price of €300, equally distributed between the artist (€100), the funding of young students in Space analog missions (€100) and the consortium (€100). What are you waiting for? Go take a look at the online shop!
But first, let us tell you a little more about the three works that ranked on the podium and the creative minds that designed them!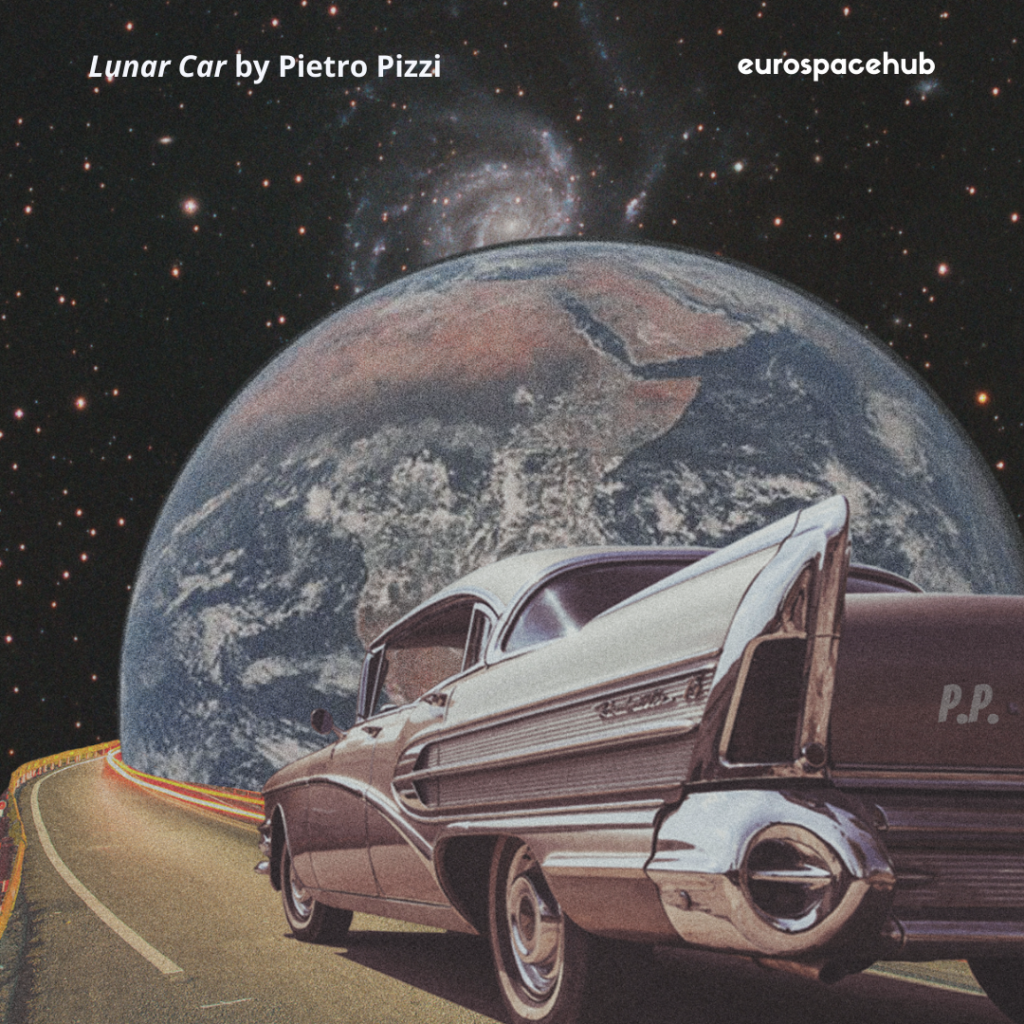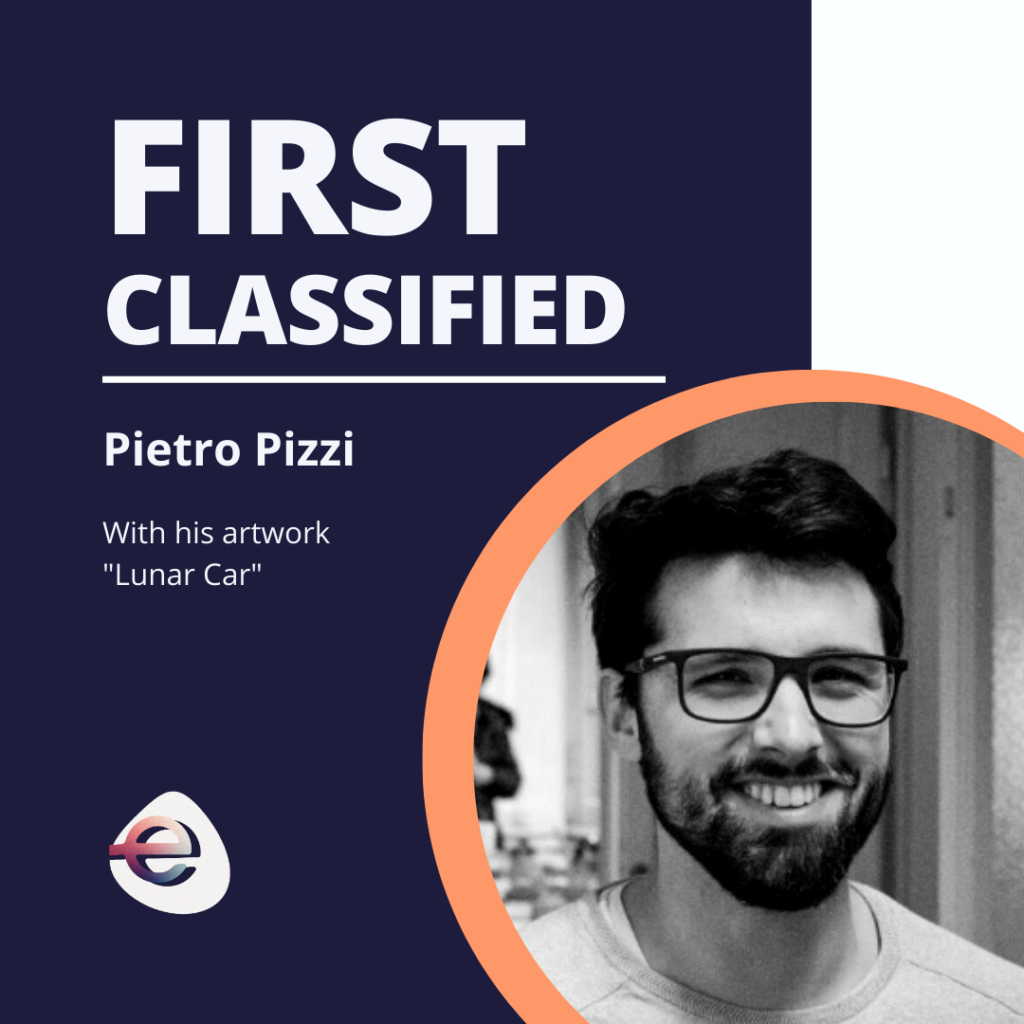 Pietro Pizzi in his work "Lunar Car" provides a visual metaphor for his idea of technology and new discoveries. Pietro is an Italian designer, graduated in Communication Design at Politecnico di Milano. For him, Space is a source of inspiration, being a place for creating dreamlike and surreal atmospheres to inspire future generations with powerful images. We quote the description of his artwork here in his own words,
The two works I chose to submit for the EuroSpaceHub contest represent my idea of vintage imagery. The two compositions are a variation of the same theme, where the protagonist is a vintage car. Just as cars once stood for new technologies, so space exploration is a symbol of the power of progress in our present era. The images are a metaphor for the journey that will take the next generations to new discoveries in Space. In the first one, the Earth in the background represents the connection that will always bind humans to their planet. In the second one, the background of a galaxy represents the distant destinations that are waiting for us and the desire to discover new worlds.

Pietro Pizzi, First classified winner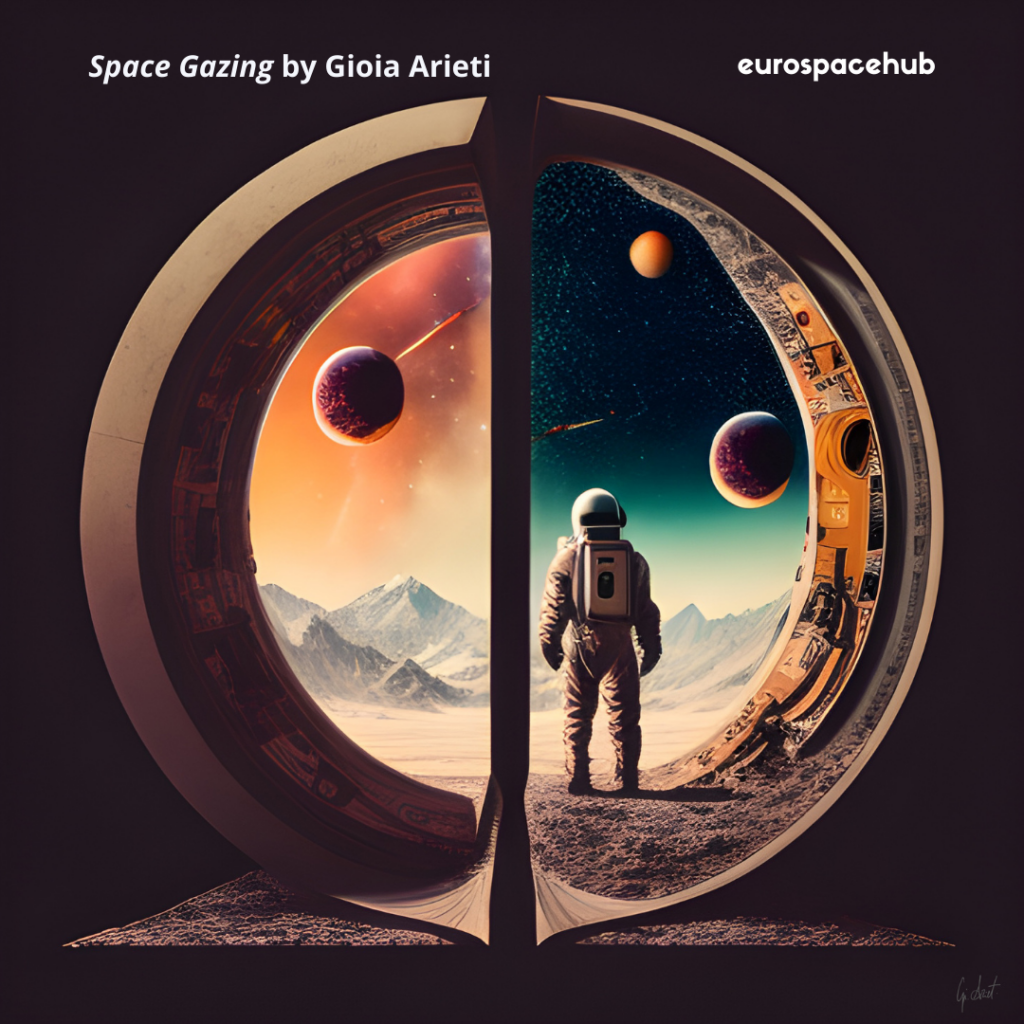 The second classified artist is Gioia Arieti. Gioia is a human-centred designer in IT for a major Danish bank by day, and a time designer and TED Talk speaker inspired by Space by night. As a designer, learning about how astronauts live in Space has influenced the creation of a human-centred time unit, called Wide Time. Since 2018 Gioia has been working on Wide Time – a mission to start measuring time in width, not length, with use cases focusing on well-being and smart cities development. Wide time measures time that is perceived longer, and creates the concept of "amplevity", as opposed to "longevity": a wide individual's life, i.e. a life perceived longer than the years lived, thanks to a high number of lessons learned, insights and multiple perspectives.  Gioia is a user experience advocate and is currently using design thinking to help Danske Bank in developing and anticipating digital financial demands for major corporate clients. She holds a Master's degree in Product Design and Bachelor's in Economics from Denmark. 
Gioia's artwork "Space Gazing" classified second in our contest,
Space Gazing imagines multiple sunrises and sunsets that we, as humans, might experience on other planets from the International Space Station. This artwork is the Space-vintage version of a full comic drawing that I have ai-generated with Mid-Journey about Wide Time"

Gioia Arieti, Second classified winner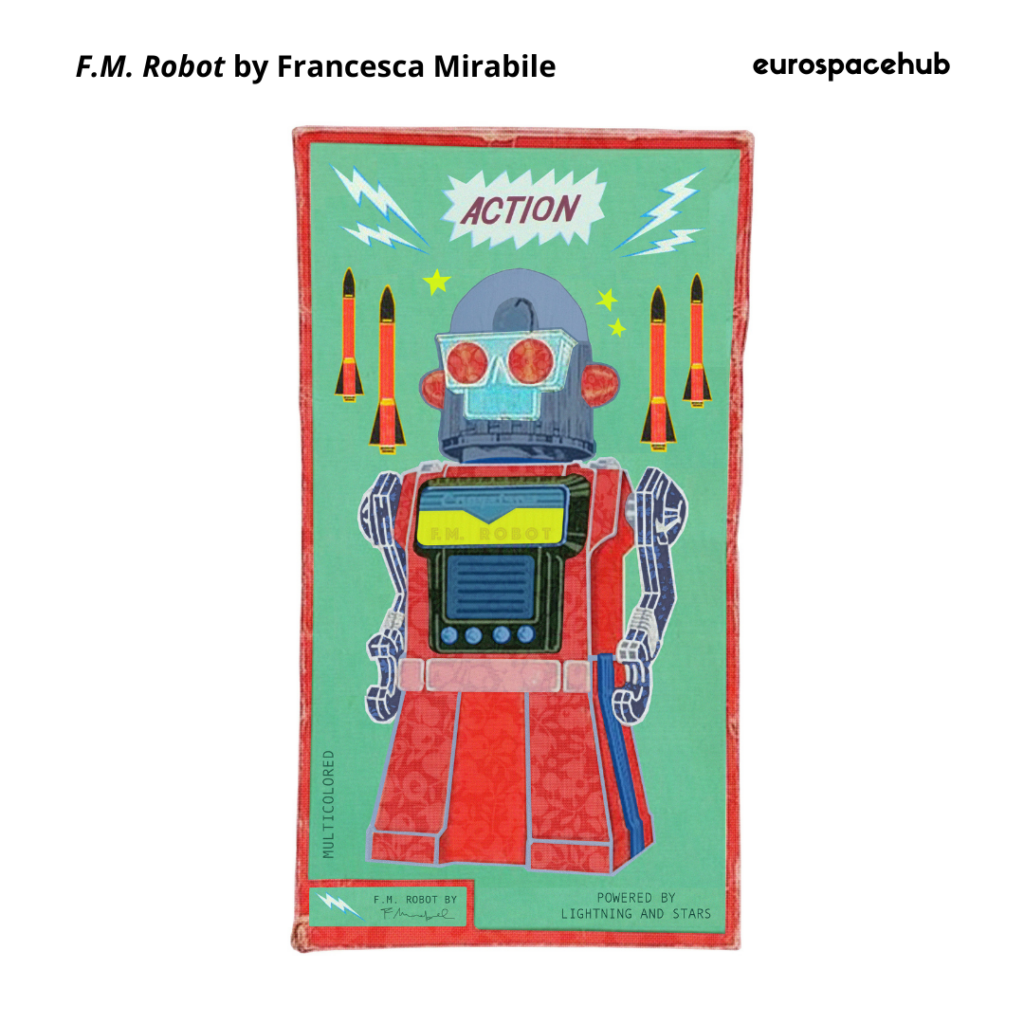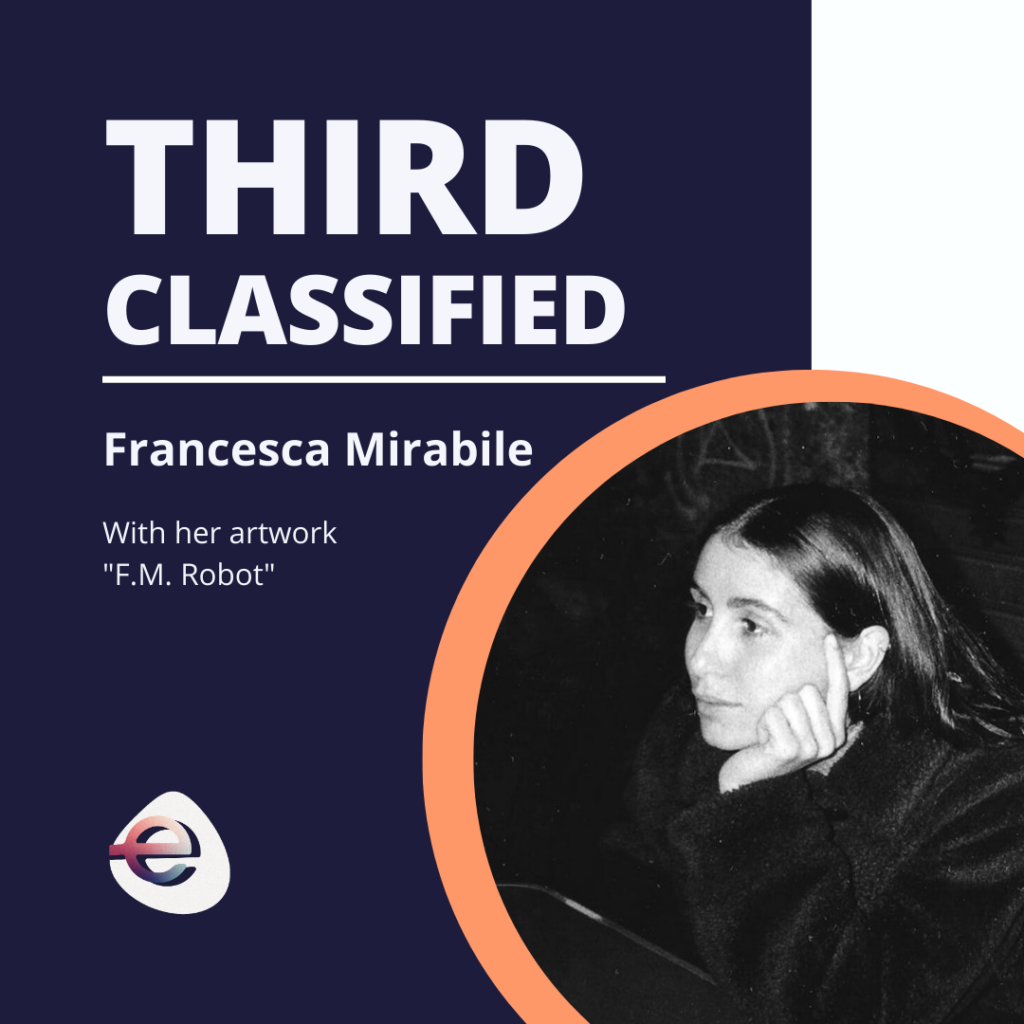 The third place in our contest went to a promising Italian artist, Francesca Mirabile, with her work F.M. Robot.
Francesca (Bergamo, 1997. Based in Milan) attended the Painting course at the Brera Academy of Fine Arts where she received her Three-year and Master's Academic Degree. Since November 2021 to November 2022 she has been attending, in Rome, the Curatorial Workshop for Emerging Authors of Yogurt Magazine; a publishing house and a curatorial platform looking for new directions in contemporary photography. Here, Francesca designed a contemporary photo book. During the years, being part of artistic circles, she develops a personal aesthetic taste and a natural propensity for creativity. Academic studies and the heterogeneity of courses taken have fostered the development of skills in different areas: Collage and Contemporary Photography are part of her poetics. A great attention to details, to fabrics in particular (textures and patterns) distinguishes her; with these elements, she creates three-dimensional installations and material combinations. Her practical-theoretical research is usually characterized by sui generis food and set tables as protagonists: "Set tables in Cinema and Art" as the topic of her Master's thesis. Francesca is always motivated by new creative challenges. 
Her artwork, F.M. Robot, is created with the digital textile technique. As explained by the artist,
F.M. ROBOT is the protagonist of a vintage toy box that I made using the digital textile collage technique. Here textiles with different patterns, initially scanned, were assembled together to compose the final image. Bright colors, flashes and vignettes envelop the Robot in a nostalgic atmosphere. To get to this point, FM ROBOT went through several stages of design and research. The first step was archiving: I made a mood board with reference images (movie stills, comic book images, images of old toys with iconic style). The choice to draw a space toy box, where the ruined paper effect is voluntarily visible, was instinctive: as if any of us could feel a bit of nostalgia looking at it and wearing it. The second step was the aesthetic one: combining my vintage textile aesthetic with the vintage space style while remaining consistent with both. The last, more playful creative step was to decorate the box with stickers and recreate (custom) lettering inspired by that of real vintage toy boxes. This robot is a small creature that bears my initials "F.M. ROBOT by Francesca Mirabile" as Frankenstein's monster bears the professor's name; but I am proud of him. Finally, I made a prototype three-dimensional cardboard box to be used as the actual packaging for the goods. This could be fun: the box in the box.

Francesca Mirabile, Third classified winner
We would like to thank again all the artists who participated in the competition and we invite you to stay connected on our socials and our blog… We will reveal more artworks soon!