Today, your host is Serena Crotti, Communications Manager at Lunex EuroMoonMars. Our guest are the EMMPOL 11 mission crew Philippe Frering, Aerospace engineer (IPSA) France, Kiran Gautam, molecular biology (VUB) India, Sarah Solbiati, Biomedical engineer (Politecnico di Milano) Italy, Brent Reymen, Psychology space studies (KULeuven) Belgium and Serena Crotti, Integrated product design (Politecnico di Milano) Italy . They are talking about their experience of doing an astronaut EMMPOL mission training in Poland.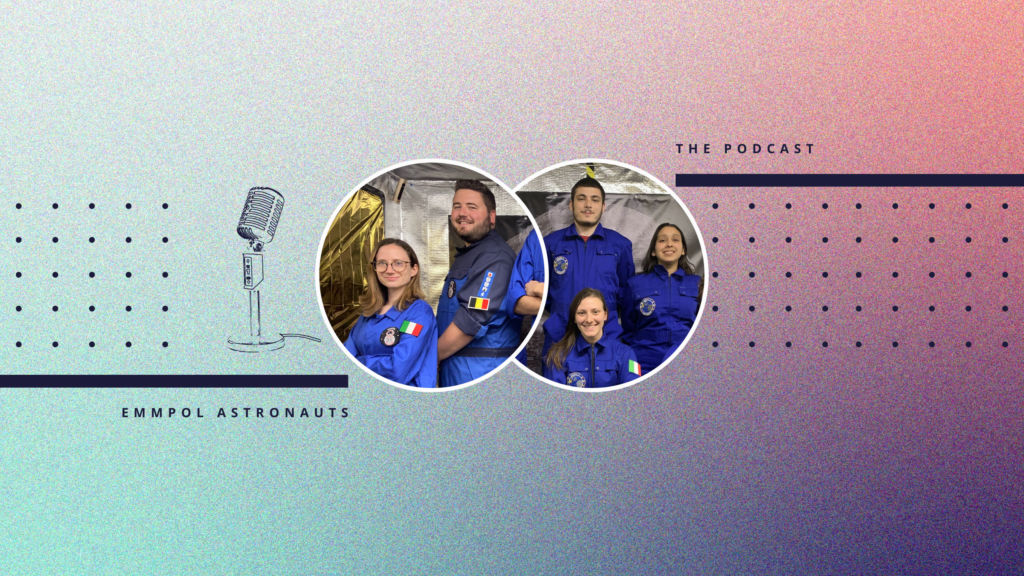 LUNEX – EuroMoonMars organizes several analog campaigns in which both students and professionals can participate. Terrestrial analog sites are places on Earth where the geological, environmental, or biological conditions of a celestial body such as the Moon or Mars are simulated as much as possible. At the moment we do this on several different sites around the world. The main up-and-running analog campaigns are currently the EMMPOL campaigns.
This is a collaboration between EuroMoonMars and the Analog Astronaut Training Center (AATC) in Poland, run by Dr. Agata Kolodziejczyk. She created a habitat that simulates a moon base where crews are totally isolated from the outside world, and where they can perform space-related experiments. At the moment, we are also starting a collaboration with the analog station of Astroland in Spain, where they simulate a Martian environment and research survival in isolated hostile environments.
There are also plans for the future. We are developing a portable analog habitat designed by Serena Crotti. This unique habitat will be built in a container and thus be able to move to different locations and partners around Europe. Our analog astronauts can thus be trained in a variety of different settings depending on their interests, research design, and availability.
The special episode EuroSpaceHub we want to share every month with you stories behind the space technology and space research. Enjoy the conversation!
ABOUT EUROSPACEHUB
EuroSpaceHub is a group of 5 founding members, VilniusTECH, International Space University, Complutense University Madrid, Lunex Foundation and Collabwith Group.
EuroSpaceHub aims to connect digitally the space ecosystem in Europe, from tech transfer offices to industry, space accelerator networks, research centres, and other universities. The project will allow these actors to easily connect with financial opportunities from the Horizon Europe framework, the venture capital programme, and the InnovFin initiative. EuroSpaceHub will bridge the gap between academic institutions and industry using a collaborative mindset and entrepreneurship programmes inside the universities connected through tech transfer offices.
ABOUT COLLABWITH
Collabwith is a technology and a service to structure collaboration for innovation. It's a tool to connect academics-startups-organizations. Because a tool is not enough to transform how you collaborate, here we have created a new methodology, personalized trainings, a new way of communication and a tailored made consulting for you to be more effective and efficient, now.
Grow your business and innovation through smart collaborations with Collabwith innovative and holistic approach to collaboration.
CollaborationXInnovation Platform: https://platform.collabwith.co
Do you want to know more? Book a demo with us, Contact us here.
This podcast is edited by Alejandra Nettel, Original Music by Sandra Loewe and Direction by Jara Pascual.
EUROSPACEHUB IS FOUNDED BY VILNIUSTECH, INTERNATIONAL SPACE UNIVERSITY, COMPLUTENSE UNIVERSITY OF MADRID, COLLABWITH, LUNEX FOUNDATIONS AND FUNDED BY THE EIT HEI INITIATIVE LEAD BY EIT MANUFACTURING & EIT RAW MATERIALS.