EuroSpaceHub is committed to Gender Equality: it is a value we strongly believe in and stand for every day. In this article we would like to show you some concrete ways that we are following everyday to achieve equal opportunities in the Space ecosystem. Read on to learn more!
Collaboration with Gender mindset partners

EuroSpaceHub project has partnered with Business Angels Europe and Knowledge4Innovation Forum, which both are associations who are actively working towards increasing the number of women investment, women investors, and women entrepreneurs. Their actions are: debates in the European Parliament, policy making, participations in gender investment and gender index European funded projects to actively research the gender issue inside the European Innovation Ecosystems. Also, these associations are very active in the publication of reports to support the change and the creation of gender and women investment and innovation policies.


Workshops Participants are women for 34%

The analysis of the Space and Aviation Ecosystem has been discussed with 34,5% of women in our Workshops, a number which has to improve for the next reports, until our goal of 50% of women. It is important that all the analysis, communication and discussions have an equal participation of women and men. During the Phase 2 of the EuroSpaceHub Project, we will continue to focus on gender equality, organising workshops and trainings involving an increasing number of women participants. At the same time, we will keep monitoring the situation and we will define new strategies to see how we can improve together the gender equality in Space and Aviation ecosystems.


EuroSpaceHub Project Genderless Branding

Branding was carried out with attention to gender neutrality. The brand identity was developed with a focus on the purpose and values of EuroSpaceHub, being careful that all user categories could relate to its graphic style and aesthetics. The colour palette, logo and general features were designed to have universal appeal. In selecting the colours for the main palette, we were driven by our intention to create a positive, contemporary, fresh and inspirational mood. The choice of using warm and cool hues within the same palette, as well as the decision to use simultaneously different bright colours – ranging across the spectrum – is representative of a brand that wants to be universal, for all. In a similar way, also the EuroSpaceHub Digital platform, which will be released soon, is being designed with a Genderless approach.


Digital Platform Gender Balance in information architecture

EuroSpaceHub is creating a gender balanced participation in all activities at different levels, so as to increase collaboration and innovation efficiency with all the players. The EuroSpaceHub is bringing a new perspective, a new way of Collaboration in the Aerospace Community, which takes into consideration Gender Balance. Digitalisation of the networking is a catalyst to open the doors to new innovation ecosystems, networks and opportunities. The digital tool offers significant possibilities for making knowledge sharing more inclusive and open to all. Digitalisation of the networking offers the possibility of efficiently including certain categories of users who are often disadvantaged in collaborations. Transversal networking is a powerful mean to support women from different origins, countries, cultures and backgrounds to be connected with other non-accessible networks, funding opportunities and capital. The features and architecture of the Digital Platform are designed to facilitate accessibility to equal opportunities and they are organised in order to make networking and trainings easily accessible to all. Through mentoring sessions, the project will give female entrepreneurs and researchers international access to training. It also gives visibility to female role models in Aerospace, which is fundamental to inspire women pursuing a career in the Space-Tech sector.


Monitoring of Gender related Metrics

The EuroSpaceHub digital platform enables the monitoring of the progress in achieving KPIs for gender equality in the SpaceTech Ecosystem, thanks to the collection of specific data and parameters. Monitoring these metrics is fundamental in order to maintain awareness of the gender equality status achieved and thereby plan future actions. Examples of metrics that the EuroSpaceHub Digital Platform will be able to monitor in the Space Ecosystem are: the Percentage of women researchers; the Percentage of women investors; Percentage of women mentors; Percentage of women startups; Percentage of women scale-ups; Percentage of women industry professionals; Percentage of women consultants; Number of collaborations between industry and startups led by women; Number of collaborations between academics and industry led led by women; Number of collaborations between academics and startups by women; Percentage of Intersectionality/Nationality/Location/Gender.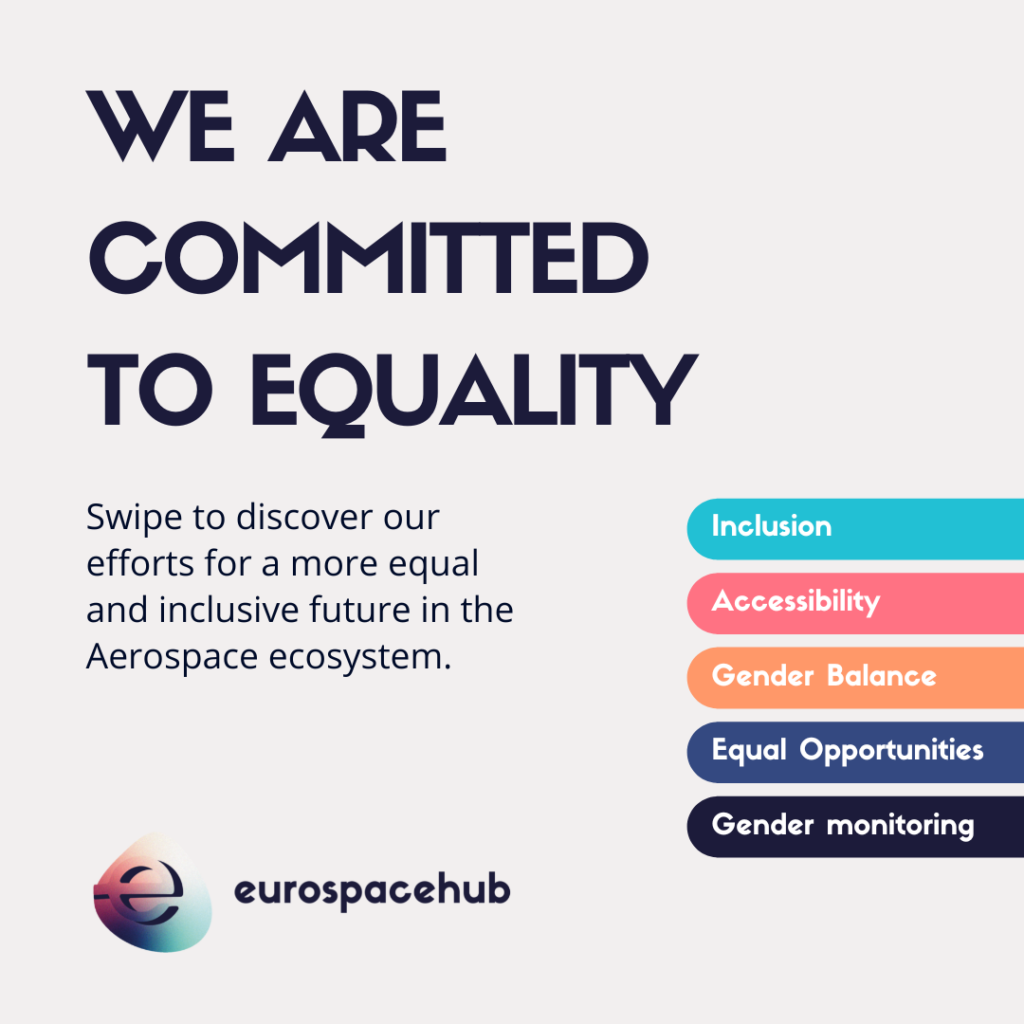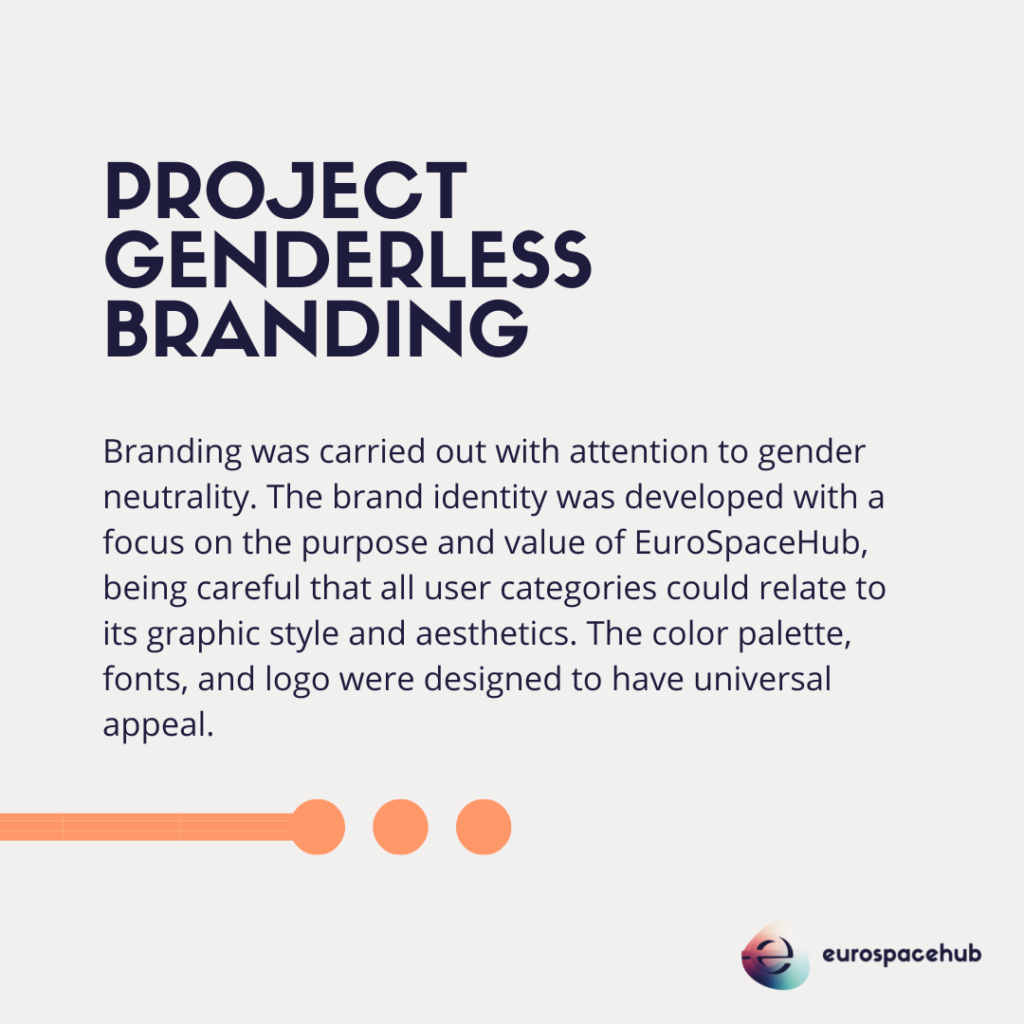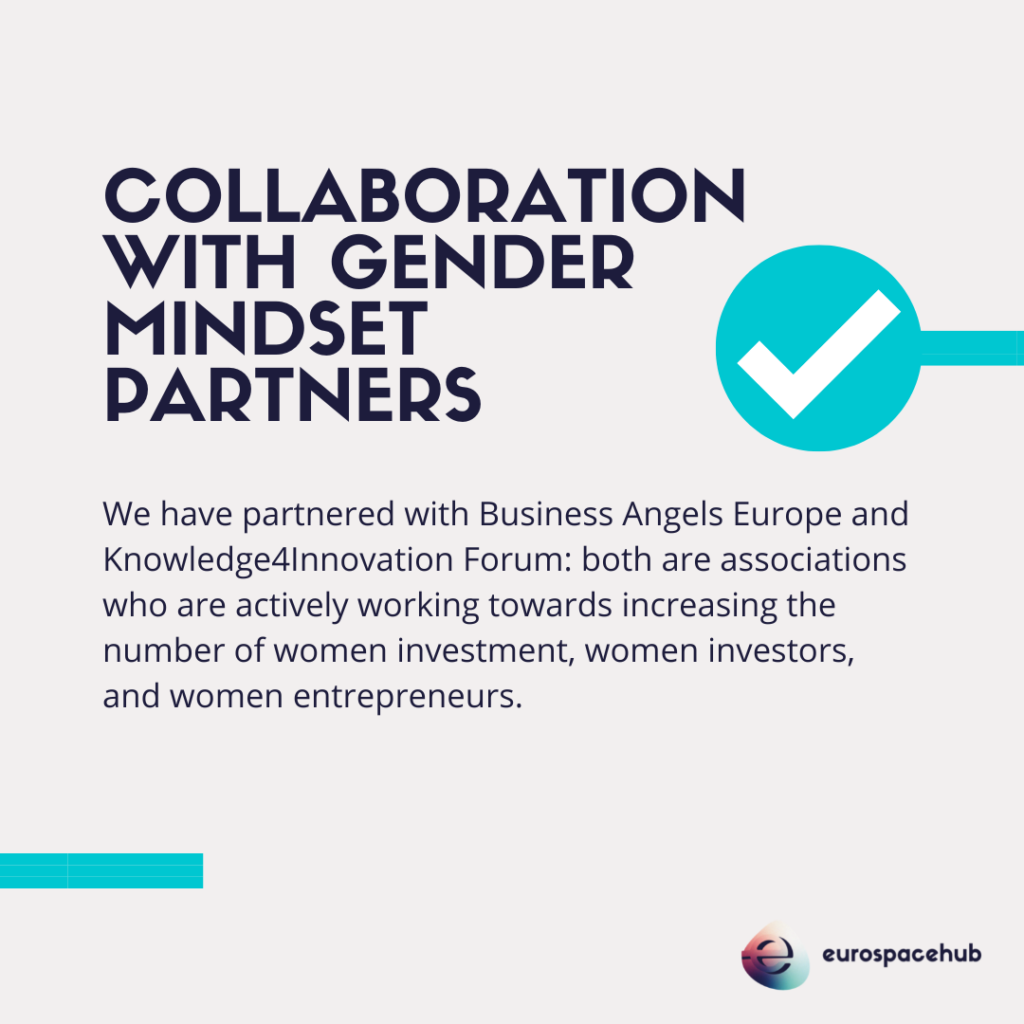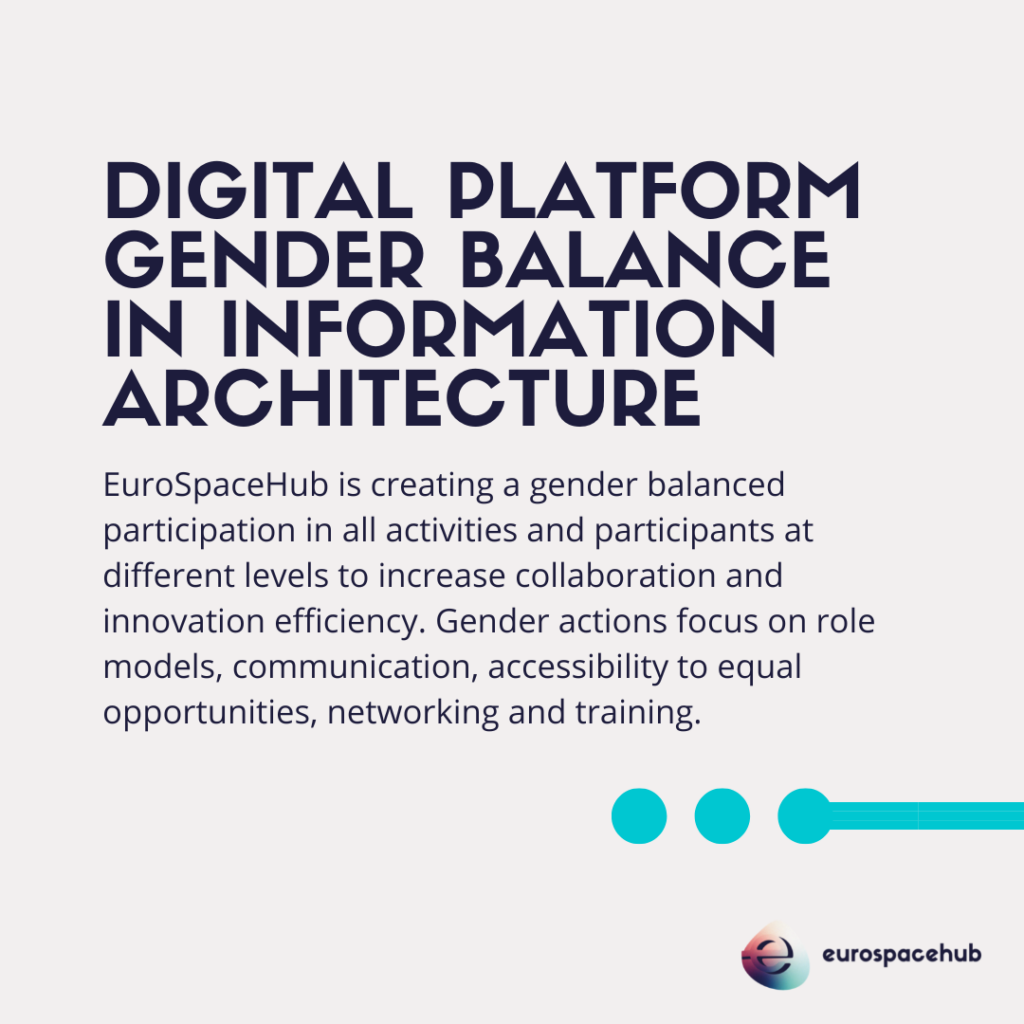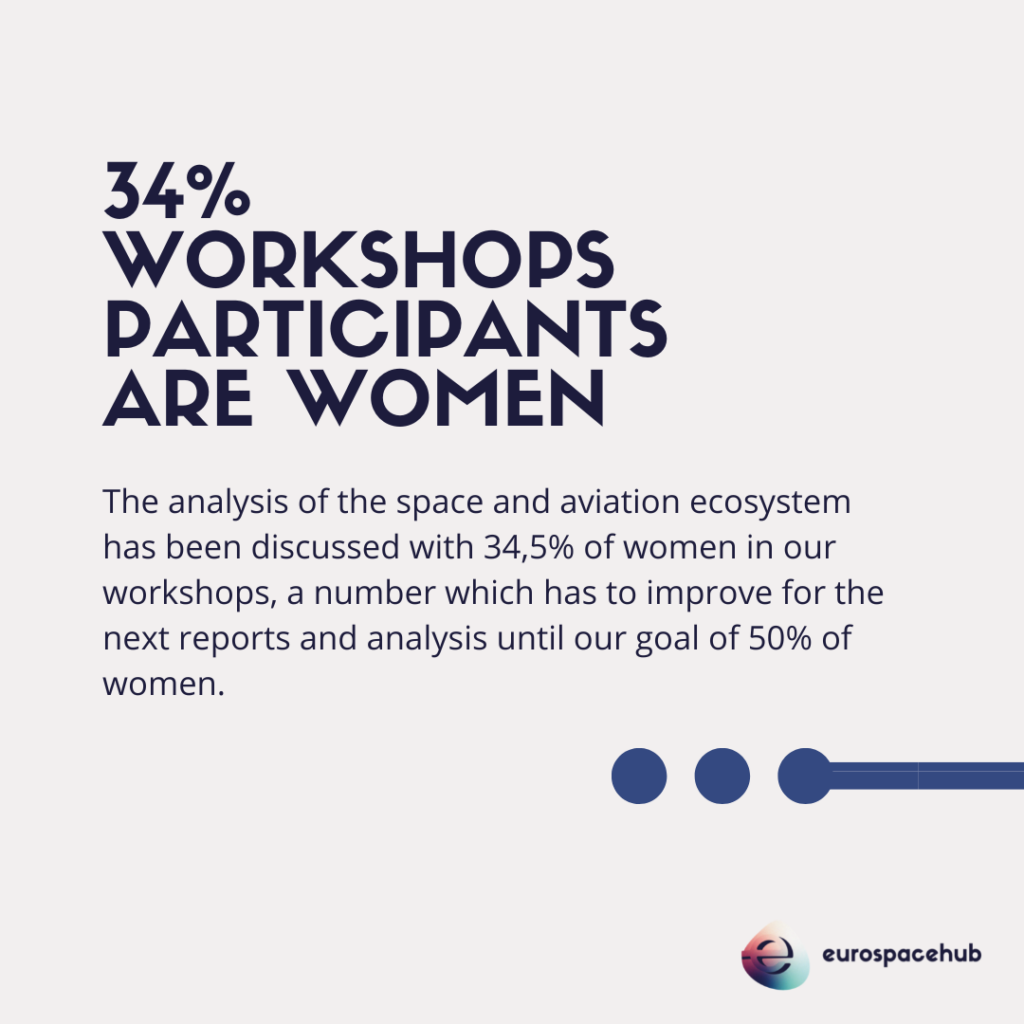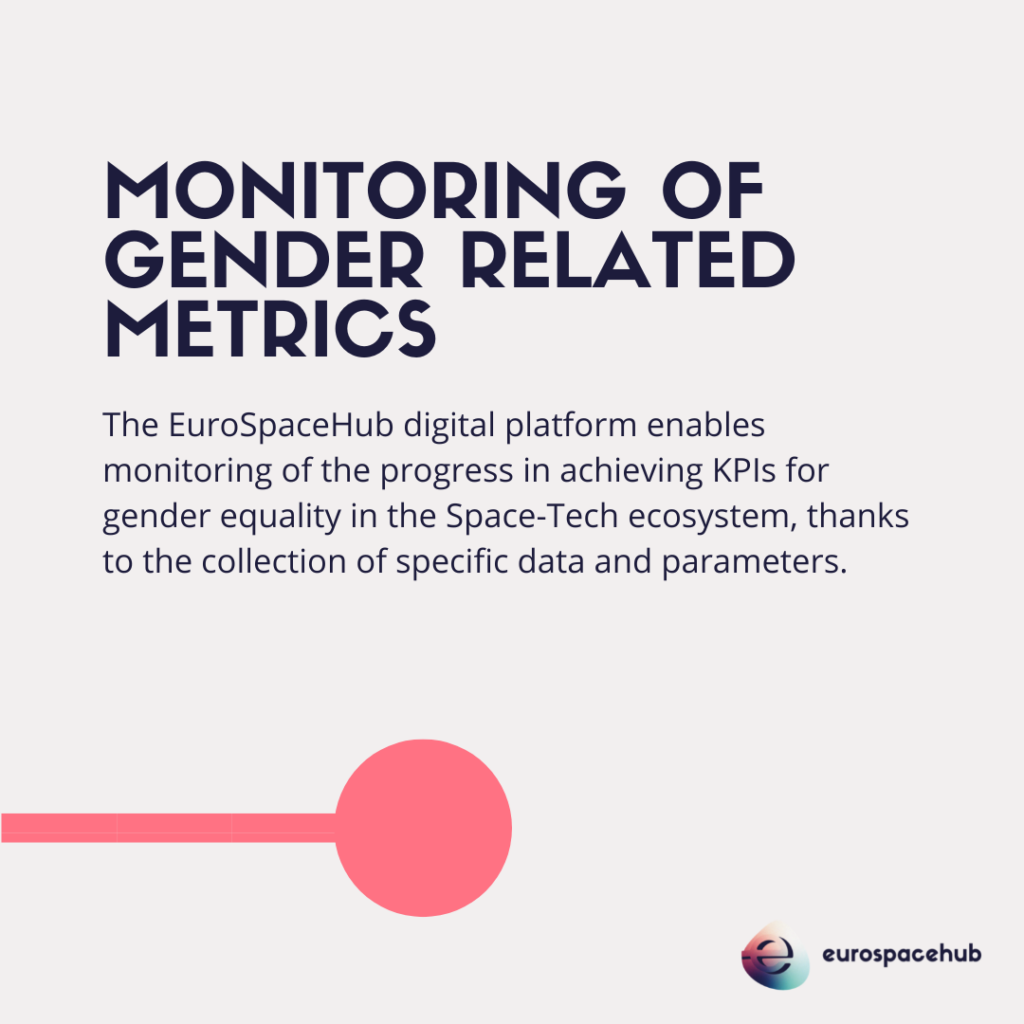 If you know already, Do you want to be the first to know when our EuroSpaceHub digital platform is live?
You will find a repository of space research results, projects and space startups and industry leaders. If you enter the EuroSpaceHub, you will enter a new level of collaborative mindset.