As part of the forum on space innovation to be held in Ibiza from 3 to 5 May, EuroSpaceHub and the Association of DJs and Producers of Ibiza and Formentera are holding a competition to reward musical creativity: The Soundtrack of Ibiza Sunset.
The initiative includes a local and an international call for entries, in both cases with compositions inspired by the Ibiza sunset. The deadline for submitting candidatures is open until the 1st of May.
The programme also includes a panel on the relationship between music and space and a jam session with Leonardo Barilaro – The Space Pianist and DJ Pippi as headliners.
Space & Music will be held on Thursday 4th May at Kumharas Ibiza from 6.30pm with free entry until full capacity is reached.
---
IBIZA, 24 April 2023- Music as an important element in space missions and space as a musical inspiration. It is around this symbiotic relationship that Space & Music is born, the programme on space and musical creativity promoted by EuroSpaceHub Ibiza Forum 2023, the forum on space innovation to be held on the island from 3 to 5 May with the support of the European Commission, the Ajuntament d'Eivissa and the Balearic Government, which aims to involve the creative community as a strategic actor in the space ecosystem.
"Culture and technology go hand in hand. We are inspired by the 1960s, when space had an impact on art, architecture, fashion and music, approaching space from a positive and contemporary perspective. Ibiza has a vibrant cultural and artistic scene. We want to rediscover the future and space, hoping to inspire for spatial entrepreneurship from all points of view and disciplines."

Jara Pascual, EuroSpaceHub partner.
Space & Music has the collaboration of the Association of DJs and Producers of Ibiza and Formentera (DIPEF). In addition to the competition, it includes a panel of experts and a jam session. The full programme will be held at Kumharas Ibiza, one of the island's ironic venues to enjoy the sunset, on Thursday 4th May from 6.30pm with free entry until full capacity is reached.
---
The Competition: The Soundtrack of Ibiza Sunset
The Soundtrack of Ibiza Sunset is a competition on musical creativity with two calls for entries to be submitted until 1 May:
Space Music 4 Sunset, international in scope, with compositions of between three and five minutes;
3'20" Space, aimed exclusively at local talent, tracks lasting exactly three minutes and 20 seconds.
"Putting a soundtrack to the sunset is a genuinely Ibizan event and is something that connects us with the stars (the sun, the moon and the stars), the celestial vault and the infinite represented on the horizon. Mixing music and space is something that has been done in Ibiza for decades and this was an unavoidable occasion to theorise about the inspiration that the cosmos exerts on musicians. David Bowie's Space Oddity or Holst's The Planets are just a couple of examples of how music can help astronauts in space."

Christian Len, President of DIPEF.
The winning compositions will open and close the jam session and will be included in a compilation to be released by SpaceEuropeHub and DIPEF on digital and vinyl with the best compositions entered in the competitions. An idea with which the organisation wants to recover the tradition of compilations with music for the sunset initiated by the artist José Padilla, in this case, inspired by space.
---
The Spectacle: Space Jam
Conceived as an ode to the universe and the stars, Space Jam will feature a stellar performance by Leonardo Barilaro.
Also known as 'The Space Pianist', Leonardo Barilaro is an Italian scholar-artist and aerospace engineer who has fused his passion for music and science to promote awareness of the possibilities of space exploration for human civilisation. His innovative fusion of music and science aims to inspire audiences around the world and transcend cultural barriers, connecting people to the wonders of space. Beyond his goal to inspire, he also advocates for sustainability and environmental awareness, believing that space exploration and colonisation can provide a way to mitigate the impact of the climate crisis on Earth. He has recorded several studio albums, released a new space music track every day of the year during 2022 and has a composition aboard the International Space Station in 2023. His big dream is to play on Mars.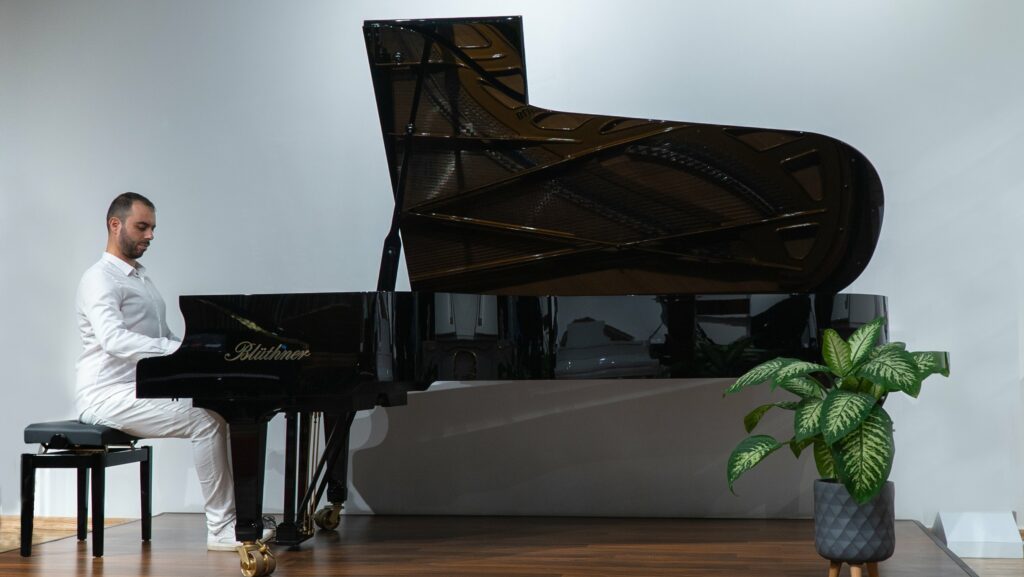 "Leonardo Barilaro has no limits, he is a talented musician from another world, this performance will be historic! It reminds me of Ryuichi Sakamoto's performance at KU Ibiza in 1990. People ended up crying."

DJ Pippi.
DJ Pippi will accompany The Space Pianist in this 45-minute jam session in which Barilaro will present his latest musical composition. About DJ Pippi, he is a DJ and producer of reference in the Balearic sound, resident in Ibiza since 1984. He has collaborated with artists such as Mike Oldfield and Friederich Gulda. His sessions and productions reflect his loyalty to the sound of the island throughout his successful career.
Space Jam will also feature Portland composer and musician Sandra Loewe along with Sean Lawson and DJ Tania Moon and will be broadcast live on Ibiza Sonica.
---
The Panel
Prior to the jam session, Kumharas will host an expert panel entitled 'Why space is an inspiration and why music is important for space missions'. Hosted by Jara Pascual, partner of EuroSpaceHub, and Christian Len, president of DIPEF, it will feature Leonardo Barilaro – The Space Pianist, music promoter Kim Booth, creator of the transformative Cosmic Pineapple platform and events, singer and songwriter Sandra Loewe, and Lenny Ibizarre, the first electronic music producer and label to achieve international recognition and multi-platinum sales in Ibiza.
Photos for social media or editorial use can be found here:
---
About EuroSpaceHub
EuroSpaceHub is a European ecosystem to foster innovation created in 2022 to digitally connect academia and research with industry and start-ups in the space sector. The consortium is fully funded by EIT HEI (Innovation Capacity Building for Higher Education), an initiative led by EIT Manufacturing and EIT Raw Materials, and is a key objective of the European Institute of Innovation and Technology (EIT) as part of its Strategic Innovation Agenda 2021-2027. EuroSpaceHub's founding members are:
International Space University (ISU)
Complutense University of Madrid
Vilnius Gediminas Technical University
LUNEX Foundation
Collabwith Group
Its main objective is to connect all actors involved in space and aviation innovation with the financial opportunities offered by the Horizon Europe framework, the Venture Capital Programme and the InnovFin initiative. EuroSpaceHub will bridge the gap between academia and industry by using a collaborative mindset and entrepreneurship programmes within universities.
Its main lines of work are learning and training through the creation of a new educational programme for young aerospace entrepreneurs, fostering a collaborative mindset; collaboration and networking between universities and industry through the EuroSpaceHub digital platform, facilitating collaboration and technology transfer; and communication and dissemination, connecting opportunities with students, non-academic staff and professionals, enabling their participation in innovation workshops, astronautics training, analogue missions, space instruments and testing.
---
Press Enquires:
Guadalupe Revuelta
info@ladypress.net
+34 609 868 377