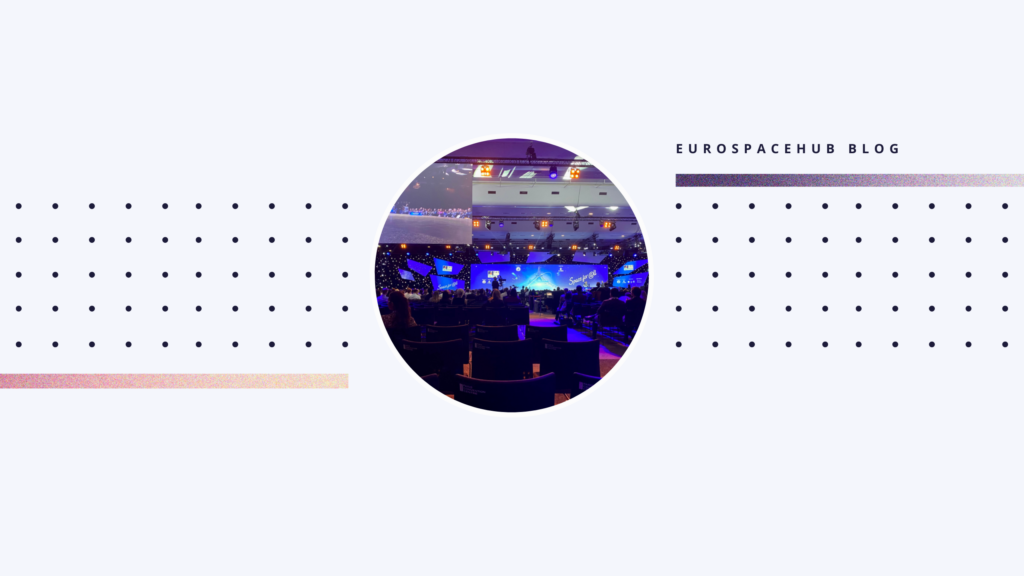 This year IAC was special! And not only because it took place in a wonderful city, that is Paris, but also because EuroSpaceHub was there for the first time! In fact, EuroSpaceHub was present in the exhibition area at Paris Expo Porte de Versailles with a dedicated exhibition booth. The initiative was coordinated by one of EuroSpaceHub's founding partners, LUNEX. The LUNEX team spent all week seeking out contacts, new strategic partners and interested people. The booth was a showcase to introduce our new EuroSpaceHub project to the public: a vibrant place throughout the entire week of IAC, September 18-22. Also sharing the booth along with LUNEX and EuroSpaceHub were other organizations: Space Renaissance International, MMAARS, Mark Yaeger's Origin and ITACCUS (Committee for the Cultural Utilisation of Space).
The booth was not only a showplace for the partners involved, but also a real stage, which attracted visitors, students and space lovers toward itself. During the week of the IAC, our booth was a meeting point for the communities of the partners involved. The LUNEX & EuroSpaceHub Communication Team organized activities, lectures, interviews and meetings with guests from various organizations. Speakers who presented their research and work at our booth with lectures and demos included: Bernard Foing (Lunex CEO and SRI President), Adriano Autino (Space Renaissance International former President), Susan Jewell (MMAARS CEO), Agata Kołodziejczyk (Analog Astronaut Training Center founder), Roxana Perrier (IPSA Professor), Leonardo Barilaro (also known as "The Space Pianist," re-known musician inspired by Space), Eleonore Poli (ambassador from Astroland Company), Ghanim AlOtaibi (Moon Village Association, PESC, AATC), Marc Heemskerk (ICEE. Space co-founder). We are thankful to these remarkable guests who shared their views and research in Space at our booth.
There was also no shortage of networking opportunities outside our booth, from "industry breakfasts" to cocktail events and soirees. IAC did not let us down and gave us the chance to meet outstanding personalities, including some astronauts! It was really fascinating for us to spend some time with them while hearing their stories about their adventures in Space. Among them were astronaut Matthias Maurer from ESA and Akihiko Hoshide from JAXA, with whom we were able to talk about opportunities for young people in Space and our training activities for aspiring young astronauts and analog missions. The LUNEX Communications team representing EuroSpaceHub also had the privilege of interviewing a very special analog astronaut: Diego Urbina from the renowned Mars 500 project. Diego spent 520 days in total isolation simulating a human mission to Mars. Curious to find out what he told us about his courageous experience? You can find all the interviews on the official LUNEX EuroMoonMars Youtube channel!
If you know already, Do you want to be the first to know when our EuroSpaceHub digital platform is live?
You will find a repository of space research results, projects and space startups and industry leaders. If you enter the EuroSpaceHub, you will enter a new level of collaborative mindset.